What's on at the Club next week
Dave Mason will be showing us some of his PDIs in a presentation entitled "Sequential Images". Dave specialises in London street photography finding the extraordinary in the ordinary so this should be a good evening.
Forthcoming Club Outings
The programme is in the course of being revised – watch this space and the Club notice board for a new list of outings.
Congratulations
To all those members who were awarded cups, certificates and highly commended by our Annual Exhibition Judge, David Mindus.
Annual Exhibition
If you won a cup at last year's Annual Exhibition would you please return it and it's box to the Club – nicely polished as well please.
Things to do this Easter Weekend
 Sunday 5 April (and the first Sunday of every month until December)
Guided tour of the Albert Memorial with exclusive access inside the memorial railings, so you can appreciate up close the craftsmanship and the bravura marble carving of the Parnassus frieze comprising 169 figures of renowned poets, musicians, painters, sculptors and architects. The tours last 45-50 minutes starting at 2:00 pm and 3:00 pm and costs £7.00. Please meet directly in front of the memorial, on the side closest to the road and the Albert Hall.
Monday 6 April starts at 12:00 noon
Easter Chair Heaving. Annual revival of an old tradition of decorating a chair and heaving ladies into the air by the Blackheath Morris Men. The chair is usually decorated in Greenwich town centre market then the heaving and dancing take place near the Cutty Sark.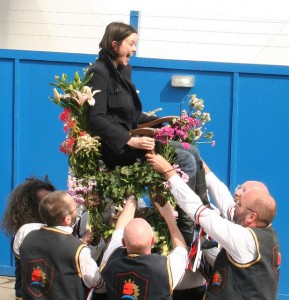 PAGB e-News Nos. 135 
To read the latest issue please click on this link www.pagbnews.co.uk.